While many coins are worth just the value of their gold and silver content, other coins have numismatic value. Our experts at Westchester Estate Buyers have over 40 years of experience and the numismatic knowledge to pay the highest prices for your coins and collections. Our experts will grade and evaluate your coins using professional coin grading standards. We also buy US Government-issued Proof, Mint and Commemorative Sets, United States Gold, Silver, and Platinum Coins. We buy foreign bullion including Canadian Silver and Gold Maple Leafs, Pandas, Krugerrands, and others. In addition, we also purchase rare paper money and foreign coins that have collectible value.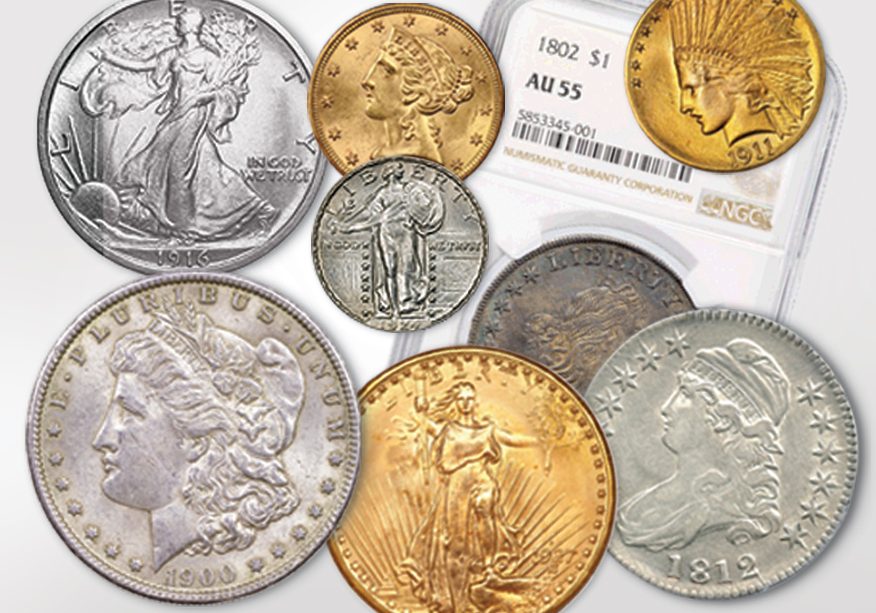 Do you have any old gold or platinum jewelry that you no longer need or wear? Do you want to trade it in towards another fine piece of jewelry or a timepiece, or maybe you just want to sell it? Westchester Estate Buyers will buy your old gold and platinum jewelry for instant payment. With over 35 years of buying experience, you can sell to us, confident in the knowledge, that we offer the best possible prices for all your gold and platinum jewelry, and scrap gold and platinum, diamonds, and watches and other valuables. Our experienced gold buyers will carefully examine and assess all your pieces to be able to offer the best prices for all your precious metal items. We buy all types of gold, new and used jewelry, scrap gold, pieces of gold, silver, and platinum.
You will see and feel the difference in selling to a professional establishment in a safe environment where you will know you sold your items for the very best price in a satisfactory transaction. Come in today for a free quote to sell us your gold bullion, gold coins, gold and platinum rings, earrings, bracelets, necklaces, and other pieces of Jewelry.
We buy Silver Flatware Sets, and Hollowware and pay premiums for desirable patterns and manufacturers such as Tiffany, Georg Jensen, and other fine makers. We buy all types of silver in all forms; broken jewelry, silver bars, coins, medallions, trays, bowls, cups, and serving pieces. Westchester Estate Buyers have been paying the highest prices for your Silver for over 35 years. Our trained buying teams will carefully examine your Silver to ascertain the Silver content, and weigh and price your item. Higher prices are paid for signed and antique pieces. Come in today for the Westchester Estate Buyer experience and leave satisfied in the knowledge that you have dealt with the top Silver Buyers in the Tri-State Area.
At Westchester Estate Buyers, we have been buying diamonds since 1978. We are actively buying diamonds in all sizes, and paying higher prices for 1 carat & larger in all shapes; Round, Princess, Emerald, Pear, Oval, Radiant, Marquise, Cushion Cut, Asscher as well as European & Mine cut diamonds.
The diamond your grandmother or mother received for her engagement all those years ago, may not be to your taste or style, you can sell it or trade it in for a diamond in our large inventory. If it is a large but dark or perhaps an imperfect stone, we will still buy it, and pay the highest prices for large and off-color diamonds. Our trained G.I.A. staff will carefully examine and analyze the diamond to determine its value. We will weigh, color, and clarity grade the diamond, to ensure you get the maximum value and highest price for your diamond.
With our knowledgeable, experienced GIA Buyers, and over 37 years of familiarity with trends and current market values, you can feel secure knowing that you will be selling to the Tri-State's top Diamond Buyers. If you are in the market for a diamond we maintain a large inventory of certified diamonds and if we don't have what you are looking for, our vast contacts in the diamond industry will enable us to provide you with the diamond of your choice at a most competitive price.
Since 1978 our knowledgeable and professional buying team has been purchasing fine contemporary and vintage jewelry pieces. They are proficient and able to evaluate fine Modern & Antique Jewelry, and Estate items. We pay the most competitive prices for all your valuables in the Tri-State area, so come pay us a visit at Westchester Estate Buyers, the place to sell your jewelry. We pay Premiums for signed pieces, such as Tiffany, Van Cleef & Arpels, Cartier, Buccellati, David Webb, and other famous Design Houses. Sell your Jewelry for the highest price in a safe, secure, and comfortable environment, with our knowledgeable and friendly Jewelry Buyers.
We are paying record prices for Vintage Rolex, Rolex Sport, Patek Philippe, Vacheron Constantin, Audemars Piguet, Omega, Breguet, Cartier, A. Lange & Sohne, Jaeger LeCoultre and others.
Selling your watch could not be easier, come in and visit us at our location in Hartsdale, NY, or give us a call at 914-949-0481 to discuss your watch. At Westchester Estate Buyers we can purchase your watch outright or offer a higher price in trade towards one of our pre-owned or new fine watches from our large inventory. Come into Westchester Estate Buyers and consult with one of our Watch Experts who can guide and advise you on your timepiece or a potential purchase. The Watch Experts at Westchester Estate Buyers look forward to meeting you and assisting you today.